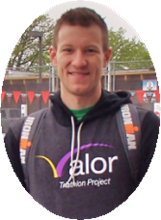 Kurt lives and trains in Connecticut. Originally from upstate New York, Kurt began life as a competitive swimmer. His introduction to triathlon redirected his love of science towards his passion for athletics. Kurt began coaching in 2011. Since then, he has coached runners and triathletes to their first 5k and multiple Goofy Challenges, their first sprint triathlon, and to an Ironman PR.
With a voracious appetite for education and in-depth experience, Kurt has been fortunate enough to have experience with a number of big names in the sport. Working at multiple training/coaching camps, Kurt has worked with Siri Lindley, Bobby McGee, Eney Jones, Erin Carson, Bob Seebohar, Ivan O'Gorman, Shane Eversfield, Mirinda Carfrae, Rebekah Keat, Charlotte Saunders, Craig Alexander, the Sansego Coaching Group, and a number of other incredibly talented coaches and athletes.
As an athlete, Kurt is a member of Team Sirius out of Boulder, Colorado. His current focus is the 70.3 distance with the goal of earning a USAT elite license. For the love of the sport, Kurt is also the president of his local triathlon club, HEAT (Hartford Extended Area Triathletes) with whom he runs two seasonal swim clinics with Olympic swimmer Jeff Stuart.
Kurt coaches for one reason, to help others redefine their limits. As a swimmer who believed he could never run, Kurt has learned that his own limits are much further than he expected and he continues to push them. They are the same for you! You only have to fuel the desire to test them. A coach is simply a guide who can help you maneuver and traverse that terrain, believe in what you are capable of, and discover your love of a personal challenge.
Athletic History & Goals
1995-2004 – Competitive Swimmer
2010 – First Triathlon
2011 – IRONMAN® 70.3 World Championship in Henderson, NV
2012 – First full-distance long course triathlon, Beach 2 Battleship
2013 – IRONMAN® Lake Placid, JFK 50 Miler
2014 – Rev3 Cedar Point
2015 – Focus redirected to the 70.3 distance
2016 – IRONMAN® 70.3 Eagleman, 56th overall
2016 – IRONMAN® 70.3 Timberman & NC – Top 3 in AG
2017 – IRONMAN® 70.3 World Championship in Chattanooga, TN
2018 – IRONMAN® 70.3 Maine – 14th overall
2018 – IRONMAN® 70.3 Atlantic City – 8th overall, Qualified for IRONMAN® 70.3 World Championships Nice, France
USAT Elite License – Goal!
Education & Background
2008 – B.A. Biochemistry & Molecular Biology, Boston University Honors Program
2010 – M.A. Biomedical Sciences (Neuroscience), UConn Health Center
2011 – RRCA-certified Running Coach
2012 – NASM-certified Personal Trainer
2014 to Present – UHart continuing education, Therapy and Sport Sciences
2015 – USAT-certified Triathlon Coach
DREAM – BELIEVE – ACHIEVE
This is the foundation of my coaching and training philosophy.
DREAM – Everyone lies awake at night, day dreams, or makes a wish upon a star for something they want to become. Whether it's faster, thinner, stronger, healthier, or just a 'Rock Star,' there's something that we all want.
BELIEVE – Once you know what you want, you have to believe that it's possible for YOU! You can't let any doubt get in the way of that belief. You need to see the path that will lead you there and never lose focus.
ACHIEVE – Here's where perspiration comes into play. You know what you want. You know how to get it. Now you need to do it. There are bumps along the way, sure. It's not going to be easy. But if you want it bad enough, you will do it.
Once you have the first part done (trust me, you already do!), I can help you with the second and third. I can help you see the path in-between who you are today and the you that you want to be. That's why I do what I do. Seeing someone achieve their goals and transforming as a person is beyond words!
Happy Training,
Coach Kurt